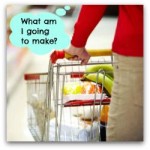 "What am I going to make for dinner?" Is a daily question. If you are like me, the answer has to fit in with a pretty hectic schedule. Between homework, sports, and picky eaters, coming up with healthy meals can be tough.
Fast food and prepackaged dinners just don't have the nutrition that growing children–or healthy adults– need.
According to one statistic, 95% of Americans are deficient in at least one essential nutrient. The testing I do in my practice more than confirms that. This is alarming considering we have access to the best quality food in the world.  The fact is that most people are eating nutrient deficient diets–ironically, while eating too many calories. Essential vitamins and minerals are vastly under represented in the average diet, and especially in children.
Here are 10 simple steps will help you feed your family–and yourself–right!
Make your own frozen meals for simple dinner prep. Use high quality ingredients and healthy recipes. Make salads and fresh vegetables to round out the meal.
Try new foods. If you tend to go with old standbys, it is time to be adventurous and try new things. Variety is the spice of life, and also a good way insure you are getting a broad range of nutrients. This is one of my favorite recipe sites http://www.simplyrecipes.com/.
Eat more vegetables. This is where it really falls apart for busy families. Cooking them ahead of time so that they just need to be reheated is a good way to go. Also homemade vegetable soups and salads are good meal-additions. At least 1/3 of a meal should be vegetables so be sure to have variety.
Switch to healthier products. If you use white rice, switch to brown.  If tuna salad is a stand-by, try salmon salad instead (less mercury and more omega 3's). Upgrade your breakfast cereal, use sea salt instead of refined salt, etc. There are lots of ways to up the overall quality of your food.
Reduce the amount of processed foods your family eats. More whole grains, less flour products, more fresh food, less packaged, more homemade, less store bought…You will be so much healthier for it (and save money too)!
Make sure superfoods are on the menu. Berries, sea vegetables, leafy greens, nuts and seeds, are easy to add to salads, soups, breakfast cereal–and even deserts.
Eat whole grains. Brown rice, quinoa, Bulgar wheat, barley, are easy to make once you know how. (Whole wheat bread is still a processed food with a glycemic index not much better than that of white bread.)
Use organic produce whenever possible, local is best. It is good for your body and good for the local economy. Most towns have farmer's markets. The produce there is often picked same day and tastes SOOOO much better than it's store bought counterpart.
Reduce sugar. Rather than resorting to artificial sweeteners, which are toxic, use natural, nutritious, unrefined sweeteners like agave nectar, raw honey, maple syrup, and turbinado sugar; just use them sparingly.
Eat together as a family whenever possible. Take time to reconnect as a family. Health is as much about how we eat, as what we eat.